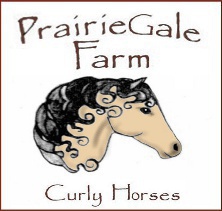 Welcome to PrairieGale Farm's webpage. The purpose of this site is to:

- Showcase my North American Curly Horses

- Display a selection of my photographs

- Promote barefoot hoof trim and Natural Horsekeeping

- Present information on herbs, both wildcrafted and garden grown

- Provide a link to the online Art Gallery of southwestern artist Lightning Hawk

Please click on the links on the left to explore the site!
Also, below are some additional links to information on other sites.